Use Cases
AutoBlocks is an open-ended tool, there are as many use-cases as there are different IT landscapes and business requirements. But here's a selection to give you an idea.
Try one for yourself
Implement key DevOps strategies
By their very nature, DevOps concepts and approaches span across people, processes and tools. Break down the barriers between your different systems and bring your DevOps strategy to life with AutoBlocks.
Andon Cords
Implement slick and automated Andon Cord processes with AutoBlocks.
The creation of a Jira issue or a specific Slack message can trigger AutoBlocks apps and integrations that will halt deployments, notify stakeholders, create reports and logs and update Jira and Confluence sites as required.
Incident command centre
When a high priority incident is reported in Jira, AutoBlocks can automatically initiate the incident handling routines, saving precious time and enabling efficient incident management.
Slack channels are created, stakeholders are added and notified, and the Jira issue is shared.
Blue Green deployment
Facilitate and automate traditional Blue Green deployments using AWS APIs and automation triggered by AutoBlocks.
For example, deployments can be linked to Jira issue status transitions and initiated once all steps and checks have been completed as prescribed by the Jira workflow.
Blameless post-mortems
When an incident or task is closed in Jira, AutoBlocks can trigger Slack messages to the issue participants and collect feedback on the process, which can then be recut into an anonymised format and posted back to Slack, to Google Sheets, or another system of your choice with an open API.
Featured use cases
A deeper look into some of the challenges you can solve with AutoBlocks
Propagation of configuration across systems
Atlassian tools like Jira are often at the heart of your DevOps ecosystem and are your single source of truth for configuration such as versions, usually defined in Jira. However, this information is required across all of your systems, throughout the business.
AutoBlocks' managed connections let you integrate your single source of truth for versions to all your other systems in no time – from your Confluence docs site which stores your version details, through your customers' Jira instances which need to be updated, to your Slack channel which needs a new version announcement. With your tools integrated as one, you can set up your script to run automatically when a new version is created using AutoBlocks' selection of triggers for Atlassian tools.
That way, every time a new version is created, all of your systems will be updated automatically, consistently, without anyone having to lift a finger. Your docs site gets a new version documentation page, issues are raised in your customer Jira instances and a notification is posted in your Slack channel.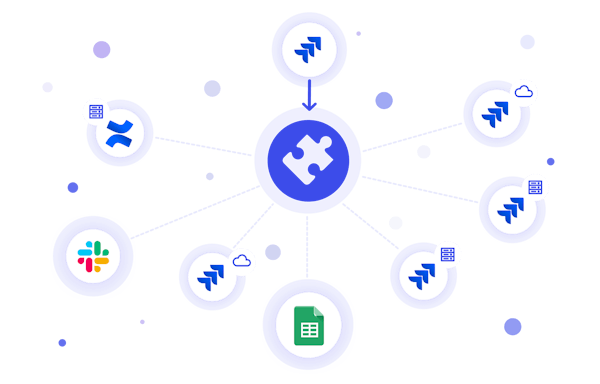 ---
Want to see one in action?
---
Integrate Atlassian with anything
Whatever your integration scenario, if the APIs are open and available, you can do it with AutoBlocks.
Optimised Bamboo notifications
Is your dev channel flooded by Bamboo build pipeline notifications, most of which aren't relevant for you?
It's easy to zone out, then miss the ones that actually matter. Why not use AutoBlocks to cut through the noise, so only the developer whose deployment has failed will be notified?
Jira and ServiceNow synchronisation
Does your organisation use both Jira and ServiceNow?
Sometimes, with different departments using different tools, it would just make things a lot easier if you could mirror both tools, so when items are raised and closed in one tool, the same happens in the other. A simple AutoBlocks integration can make this happen.
Project configuration promotion
Need to move your Jira project configuration data from one instance to another – say staging to production?
You could do this manually, which is long and error-prone, or you could do it automatically with AutoBlock, which is quick and error-free.
Tempo worklog synchronisation
Need to synchronise your Tempo Timesheets worklogs between your cloud and on-premise instances?
You can do that with AutoBlocks. You can also export them to Google Sheets or an ERP system too.
---